Have you ever seen those moms and babies breastfeeding who look like they stepped out of Mary Cassat painting? That could be you and your baby.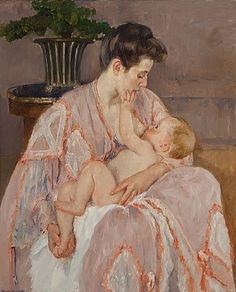 Breastfeeding in the Real World is the first breastfeeding class to use feedback from real mothers to create comprehensive breastfeeding education.
I will level with you about the available research on breastfeeding. I won't gloss over the potential problems that come up. And by doing so, you'll be better prepared to enjoy breastfeeding. Unlike most breastfeeding classes, this class covers:
Get off to a more relaxing start- find out how to plan successful breastfeeding into your birth- medicated, c-section or natural.
Keep Calm! How to identify and solve lots of potential problems early on.
How to effectively supplement breastfeeding for moms who are not able to make a full supply.
Breastfeeding and your legal rights.
How to successfully pump and store milk at work or school.
Breastfeeding and weaning during the toddler years.
Breastfeeding and medications and medical procedures.
You also have ultimate flexibility to study on your own timeline!
When you have the tools to prepare and help you spot and solve problems, you can avoid a lot of pain and hassle and have more time to enjoy your baby.
This class could save you money because exclusively formula feeding can cost between $800 and $3,000!
For about the same price as 2 cans of formula you can have lifetime access to a comprehensive breastfeeding class!