Have you ever seen those moms and babies breastfeeding who look like they stepped out of Mary Cassat painting? That could be you and your baby.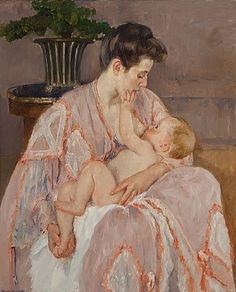 Breastfeeding in the Real World is the first breastfeeding class to use feedback from real mothers to create comprehensive breastfeeding education.
What Does Comprehensive Mean?

Once upon a time, my husband and I decided to change our car insurance to save some money. We got the recommended "comprehensive plan". A while later we were hit head-on by another vehicle. It was then we found out that our insurance company's definition of "comprehensive" did not include collision coverage. I felt cheated. We had paid good money to have coverage for accidents, only to find that we weren't getting the benefits we thought we were. So when I say "comprehensive", this is what I mean:
I will level with you about the available research on breastfeeding. I won't gloss over the potential problems that come up. And by doing so, you'll be better prepared to enjoy breastfeeding.
Most breastfeeding classes:
Assume the mother had an uncomplicated birth
Assume the mother and baby have no anatomical issues that will interfere with breastfeeding
Assume the mother knows what's normal and irregular for breastfeeding
Assume she has access to quality breastfeeding support
Assume that if the mother starts out breastfeeding, she will continue without major problems
In contrast, Happier, Healthier, Easier: Breastfeeding in the Real World:
Provides guidance on how to have a breastfeeding friendly birth (vaginal or cesarean) and how to breastfeed after a complicated birth
Gives acceptance for mothers who want to breastfeed but may have issues like breast hypoplasia or previous breast surgery
Understands that many women are breastfeeding pioneers in their families and provides information about what is normal and abnormal for crying, sleeping, and milk supply
Empowers women in seeking breastfeeding care and support by helping them "quality control" the care they and their baby receive
Covers pregnancy to the toddler years because different stages bring different challenges
You also have ultimate flexibility to study on your own timeline!
When you have the tools to prepare and help you spot and solve problems, you can avoid a lot of pain and hassle and have more time to enjoy your baby.
This class could save you money because exclusively formula feeding can cost between $800 and $3,000!
For about the same price as 2 cans of formula you can have lifetime access to a comprehensive breastfeeding class!
Looking for a scholarship? I offer quarter, half, and three-quarter scholarships. Email me at birthmultiverse (at) gmail (dot) com to get started!